Kristy Lynn Kain is the daughter of James Lee Kain and Linda Ann Bartlett. She was born in 1966 in Ohio.
In 1985, she married (1) Thomas Eugene McPeck in Ohio. He was born in 1964 in Ohio. This marriage ended in divorce.
In 1996, she married (2) Joseph Edwyn Ossa in Tennessee. He is the son of Julio Ossa and Patricia Stypula. He was born in 1962 in Ohio.

Children of Kristy Lynn Kain and Thomas Eugene McPeck:
Andrew Thomas McPeck was born in 1987 in Ohio.
Allison Blair McPeck was born in 1990 in Ohio.
Child of Kristy Lynn Kain and Joseph Edwyn Ossa:
Austin Joseph Ossa was born in 1996 in Ohio.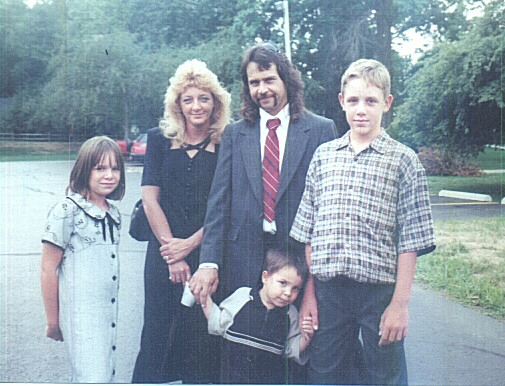 (l-r) Allison, Kristy, Joe, Andy and in front is Austin.
Sources
Information for this family provided by Kris (Kain) Ossa, herself.