Descendants of Joseph Edwards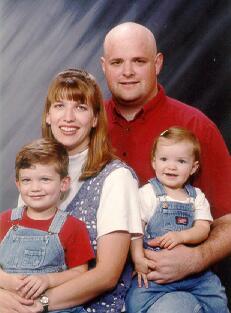 Stephanie (Edwards) Allen Family
(l-r) Gove, Stephanie, Jeremy, Sariah
Stephanie Erika Edwards is the daughter of Daniel Albert Edwards and Sue Ann Christiansen. She was born in 1975 in California.
In 1995, she married Jeremy Adrian Allen in California. He was born in 1973 in California.

Children of Stephanie Erika Edwards and Jeremy Adrian Allen:
Gove Liahona Allen was born in 1996 in California.
Sariah Eve Allen was born in 1998 in California.
Peter Jeremy Allen was born in 2000 in Minnesota.

Notes
You can see more photos of Stephanie and Jeremy's family at their own web site.
Sources
All information for this family provided by Stephanie, herself.