Descendants of Joseph Edwards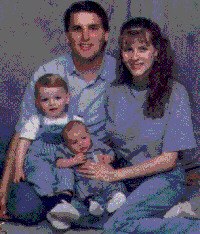 Jacob and Kristen with James and Aaron
Jacob Aaron Edwards (Sr.) is the son of Daniel Albert Edwards and Sue Ann Christiansen. He was born in 1973 in California.
In 1995, he married Kristen Lynnette Giles in Washington state. She was born in 1975 in Utah.

Children of Jacob Aaron Edwards (Sr.) and Kristen Lynnette Giles:
James Robert Edwards was born in 1995 in Arizona.
Jacob Aaron Edwards (Jr.), known as Aaron, was born in 1997 in California.

Sources
All information on this family provided by Jacob Sr., himself.
There are LOTS of picture of the whole Edwards family on their family homepage. Take a look!