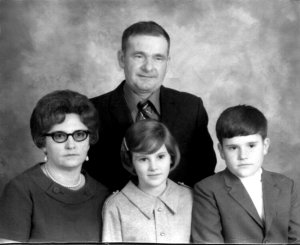 The Nichols Family about 1969
(back) John
(front L-R) Mary, Margo, Ted
[Photo from the collection of Mary Jane Herrell, courtesy of Mary Whisenhunt]
Mary Louise Crippen is the daughter of Leah Marie Wilson and Russell William Crippen. She was born in 1922 in Indiana.
In 1944, she married John P. Nichols. Pete, as he was known, was born 21 Feb/Mar 1921 in Wawpecong, Miami, Indiana. He died 20 Jun 1987 at age 66 in North Manchester, Wabash, Indiana.

Children of Mary Louise Crippen and John P. Nichols:
Ted J. Nichols was born in 1959 in Indiana.
Margo Renee Nichols was born in 1961 in Indiana.

Sources
Most information provided by Mary's cousin, Mary Jane Herrell.
John: Birth and Death from the Social Security Death Index (306-40-9432). Last residence is assumed to be the deathplace.