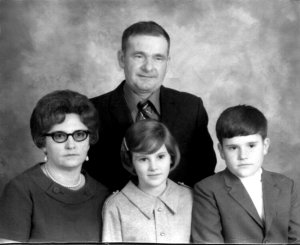 Margo with her Family about 1969
(back) John
(front L-R) Mary, Margo, Ted
[Photo from the collection of Mary Jane Herrell, courtesy of Mary Whisenhunt]
Margo Renee Nichols is the daughter of Mary Louise Crippen and John Nichols. She was born in 1961 in Indiana.
In 1984, she married David Donnelly in Indiana. He was born in 1958.

Children of Margo Renee Nichols and David Donnelly:
David Patrick Donnelly was born in 1984 in Indiana.
John Ryan Donnelly was born in 1986 in Indiana.
Craig Matthew Donnelly was born in 1991 in Indiana.

Sources
Information provided by Margo's cousin, Mary Jane Herrell.