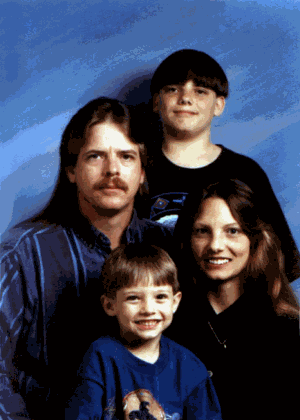 (Clockwise from left) Joe Don, J. D., Rhonda, Winston
[Photo from the collection of Mary Jane Herrell, courtesy of Mary Whisenhunt]
Rhonda Dee Barrows is the daughter of Penelope Jane Herrell and Byron Barrows. She was born in 1964 in Arkansas.
In 1982, she married Joe Don Palmer (Jr.). He was born in 1963.

Children of Rhonda Dee Barrows and Joe Don Palmer(Jr.):
J. D. Palmer was born in 1983 in Arkansas.
Winston William Palmer was born in 1992 in Texas.

Sources
Information for this family came from Rhonda's great-aunt, Mary Jane Herrell.
Winston: Birth from Texas Birth Summary Records, 1950 - 1995 [RootsWeb].