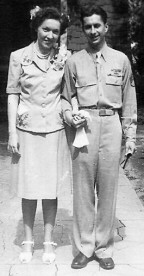 Howard Jay Cassingham and Harriet (1945)
Jay Hollis Cassingham was born 9 Nov 1892 in Rice County, Kansas. He is the son of William E. Cassingham and Ella May Smith. He was a railroad worker and manager of an oil station. He died 22 Mar 1951 at the age of 58 in St. Louis, St. Louis, Missouri. Jay is buried in Lyons, Rice, Kansas.
On 27 Oct 1917, he married Margaret Elizabeth Ainsworth in Lyons, Rice, Kansas. Elizabeth, as she was known, was born 6 Apr 1900 in Lyons, Rice, Kansas. She died 2 Nov 1969 at age 69 in Wichita, Sedgwick, Kansas.

Children of Jay Hollis Cassingham and Margaret Elizabeth Ainsworth:
Ella Jean Cassingham was born sometime before 1921.
Howard Jay Cassingham was born 2 Aug 1921 in Kansas. He married Harriet and had a daughter named, Sharon. He died in Jul 1984 at age 62 in Prescott, Yavapai, Arizona.
Jack Thomas Cassingham was born 8 Feb 1924 in Lyons, Rice, Kansas.

Notes
An undated note in the files of my mother, Margaret (Cluff) Edwards, seems to quote a newspaper article. It reads, "Corporal Howard Cassingham of Genesee, Kansas while stationed at Mitchell Field, NY was responsible for the apprehension by the FBI of a suspected spy who had blueprints of one of the governments most formidable bombers, the B-24. The young Kansas son of Mr. J. H. Cassingham who now lives in Elmo, Kansas is 21 years of age."
Sources
Howard: Birth and Death from the Social Security Death Index (SSN 515-07-3822). State of issuance is assumed to be the birthplace. Last residence is assumed to be the deathplace.
Census Listings
The individuals in this family appear in the following census listings.