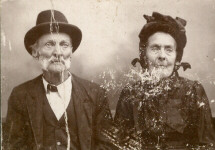 Signed photo given to Fanny's nephew, Reuben Edwards. The inscription in Fanny's handwriting on the back reads: "Ruben Edwards here i send you our pictors here is your uncle Anthony and Fanie E. Clabaugh"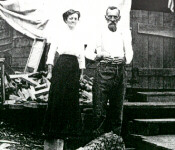 Highland and Doris Clabaugh
Elizabeth Fanny Hastings is the daughter of Seymour Hastings. Fanny, as she was known, was born in July 1822 in New York. She died sometime before 1910 in Morris County, Kansas.
On 22 May 1845, she married David Anthony Clabaugh in Hancock County, Ohio. He is the son of Isaac Clabaugh and Margaret Houser. He was born in February 1822 in Licking County, Ohio.

Children of Elizabeth Fanny Hastings and David Anthony Clabaugh:
Angeline M. Clabaugh was born about 1846/1847 in Union, Hancock, Ohio. She died sometime before 1860.
Margaret E. Clabaugh was born in March 1850 in Ohio.
Nelson Seymore Clabaugh was born 8 January 1852 in Ohio.
Highland Clabaugh was born about 1854 in Ohio. He married Doris.
Albert Henry Clabaugh was born 3 December 1855 in Ohio. He died 1 February 1897 at age 41 and is buried in Kelso, Morris, Kansas.
Amy Clabaugh was born about 1858 in Ohio.
Joel Clabaugh was born about 1862 in Ohio.
(unknown) Clabaugh was born and died sometime before 1900.
(unknown) Clabaugh was born and died sometime before 1900.

Notes
In the 1900 census (Neosho, Morris, KS. p. 256B), Fanny is reported as having had 9 children, 4 of whom were still living. We only know of 7 children; the other 2 are otherwise unknown.
In that same 1900 census, Margaret & Nelson both appear - therefore, of Highland, Amy and Joel, one must have been deceased -- but which one?
Angeline does not appear in the 1860 census (Union, Hancock, OH. p. 48). Since only 4 of Fanny's 9 children were still living in 1900, I suspect Angeline was one of the deceased children and that she died before 1860.
Sources
Elizabeth: Marriage from Marriages of Hancock County Ohio.
Death is surmised from the fact that her husband is listed as a widower in the 1910 Census (Garfield, Morris, KS. p. 2).
Margaret: Birth from the 1850 Census (Union, Hancock, OH. p. 967).
Albert: Birth & Death from "Kansas Cemeteries" [978.1 V3f Vol 1] p. 208.
Census Listings
The individuals in this family appear in the following census listings.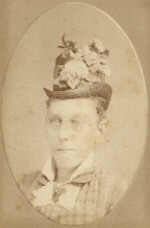 Margaret Clabaugh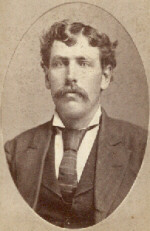 Highland Clabaugh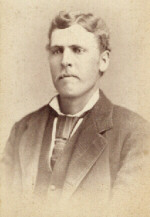 Albert Clabaugh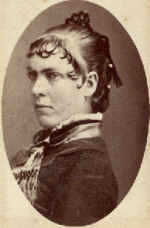 Amy Clabaugh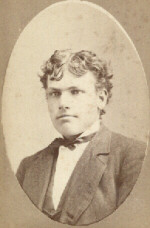 Joel Clabaugh