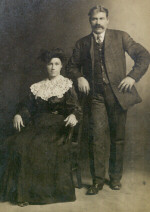 Ruben and Minnie Edwards
Reuben Alpheus Edwards is the son of Norman Ulysses Edwards (Sr.) and Elizabeth Melissa Hastings. He was born about 1 December 1858 in Union, Hancock, Ohio. He died 3 February 1922 at age 63 in Los Angeles County, California. He was buried 4 February 1922 at Pacific Crest Cemetery, Redondo Beach, Los Angeles, California.
He married (1) Cordelia Isman.
He married (2) Minnie.

Children of Reuben Alpheus Edwards and Minnie:
Minnie Edwards was born in 1904.
(Baby Boy) Edwards was born and died in 1906.

Census Listings
The individuals in this family appear in the following census listings.