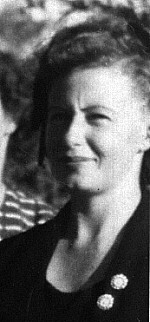 Ida (Essick) Sargent (1950)
Ida Ella May Essick is the daughter of Ida May Edwards and Edward Abraham Essick. She was born 30 Dec 1924 in Redondo Beach, Los Angeles, California.
On 27 Apr 1947, she married (1) Ira Alden Sargent in Caruthers, Fresno, California. He is the son of John Seymour Sargent and Grace Rutter. Alden, as he was known, was born 20 Nov 1917 in Ferryville, Crawford, Wisconsin. He died 22 Aug 1970 at the age of 62 in Wasco, Kern, California.
She married (2) Clyde Louis Bonnar. He is the son of Pete Bonnar and Emma Kreps. He was born 9 Apr 1925 in Pennsylvania and died 23 Dec 1996 at age 71 in Porterville, Tulare, California.

Children of Ida Ella May Essick and Ira Alden Sargent:
Terry Ellen Sargent was born in 1948 in California
Steven Edward Sargent was born in 1950 in California
Nancy Elaine Sargent was born in 1951 in California.
James Earl Sargent was born in 1952 in California. He married Virginia Gail Claborn. They have a son, John Claborn Sargent.

Notes
Ira Alden: Ida tells us: Alden was a prisoner of war of the Japanese in World War II for 3 1/2 years both in the Phillipine Islands and Japan. He was released when the war ended and came back to Lost Hills, California where he went to work for Standard Oil Co. (now Chevron). He worked there for 24 years. He was a member of the Lost Hills School Board, and helped with the Boy Scout troop. He graduated from High School in Los Angeles and attended Taft College before going into the Army Air Corps before WWII. He was stationed at Clark Field, Manila, when the war started and was captured 4 months later.

Sources
Ida: Birth from California Birth Records, 1905 - 1995. [RootsWeb]
Ira: Birth and Death from California Death Records, 1940 - 1997 [RootsWeb].
Clyde: Birth and Death from the Social Security Death Index (SSN 200-14-1944). Last residence is assumed to be the deathplace. Also from California Death Records, 1940 - 1997 [RootsWeb].