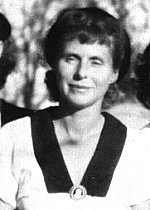 Edna (Essick) Basquez (1950)
Edna Earl Essick is the daughter of Ida May Edwards and Edward Abraham Essick. She was born 7 Apr 1915 in Redondo Beach, Los Angeles, California.
On 6 Aug 1935, she married Arthur David Basquez. He was born 18 Feb 1909 in California. He died 15 Dec 1995 at age 86 in Coalinga, Fresno, California. He is buried at Oak Grove Cemetery, Laton, Fresno, California.

Children of Edna Earl Essick and Arthur David Basquez:

Sources
Arthur: Birth and Death from California Deaths, 1940 - 1997 [RootsWeb] and the Social Security Death Index (SSN 562-01-8538).