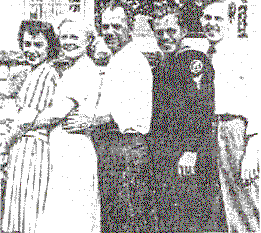 L-R: Mary Elizabeth Williams, Mary Abbott, Joseph Williams, David Williams, Joseph Abbott Williams
(Photo taken about 1946)
[Photo courtesy of Mary (Williams) Smith]
Mary Elizabeth Williams is the daughter of Joseph McNeil Williams and Mary Elizabeth Abbott. She was born in 1928 in Ohio.
In 1947, she married John Foster Smith in Ohio. He is the son of Stanley Ballou Smith and Ida Estella Wilson. He was born in 1926 in Ohio.

Children of Mary Elizabeth Williams and John Foster Smith:
John Stanley Smith was born in 1950 in Ohio.
Joseph Hugh Smith was born in 1955 in Ohio.
Julia Elizabeth Smith was born in 1957 in Ohio.

Sources
The information for this family was provided by Mary (Williams) Smith, herself, who has also written a Williams Family History for the Coshocton County Genealogical Society.