Sadie Ann Cassingham is the daughter of James Alpheus Cassingham and Mary Catherine Wolf. She was born 2 or 8 Nov 1887 in Miami County, Indiana. She died 22 Apr 1966 at age 78 in Walton, Cass, Indiana.
On 28 Nov 1904, she married Harrison Eshelman in Cass County, Indiana. He was born in 1883 in Cass County, Indiana. He died in May 1952 at age 69 in Peru, Miami, Indiana.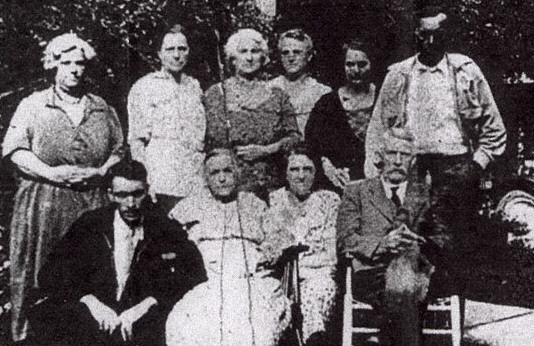 Back Row: Emma McGowan, Ida M. Herrell, Margaret Spencer, Gertrude Wilson, Sadie Eshelman, Charles Cassingham
Front Row: Harry Cassingham, Mary Catherine Wolf Cassingham, Lennie Eckley, James Alpheus Cassingham
Picture taken in 1933
[Photo from the collection of Mary Jane Herrell, courtesy of Mary Whisenhunt]

Children of Sadie Ann Cassingham and Harrison Eshelman:
Harold J. Eshelman was born in 1907 in Indiana.
A. May Eshelman was born 3 May 1910 in Miami County, Indiana. In 1962, she married John Rogers. He died in about 1964. May died 12 Apr 1966.
Mavis Eshelman was born 15 Feb 1920 in Walton, Cass, Indiana.

Notes
See the photograph of the 1937/1938 Cassingham Family Reunion.
Sources
Most information for this family provided by Sadie's niece, Mary Jane Herrell.
Sadie: Marriage from Indiana Marriages, 1845-1920.
A. May: Birth and name of father from Miami County, Indiana Birth Records 1882-1920.
Census Listings
The individuals in this family appear in the following census listings.