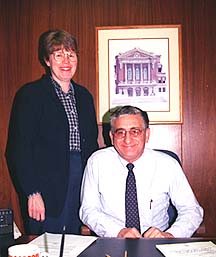 Lucy and Robert Minichillo in 1999
Lucy Mabel Lyon is the daughter of Kenneth Cassingham Lyon and Georgia Kathryn Walker. She was born in 1939 in Ohio.
In 1962, she married Robert Anthony Minichillo in Indiana. He was born in 1934 in Indiana.

Children of Lucy Mabel Lyon and Robert Anthony Minichillo:
Mary Ann Minichillo was born in 1963 in Indiana.
Thomas Joseph Minichillo was born in 1964 in Indiana.
John Andrew Minichillo was born in 1968/1969 in Indiana.
Suzanne Marie Minichillo was born in 1971 in Indiana.

Notes
Both Lucy and Robert are educators. In 1999, he was named Principal of the Year while she was Teacher of the Year. You can read about it in the South Bend Tribune of 4 May 1999.