Margaret Pearl Cassingham is the daughter of James Alpheus Cassingham and Mary Catherine Wolf. She was born either 6 or 26 Mar 1879 in Wawpecong, Miami, Indiana. She died 1 Sep 1950 at age 71 in Kokomo, Howard, Indiana.
On 19 Aug 1896, she married Francis Marion Spencer in Grant County, Indiana. He is the son of John L. Spencer and Beulah. He was born 28 Jun 1876/1877 in Cedar Vale, Chautauqua, Kansas. He died in an automobile accident on 14 Mar 1957 at age 78 in Miami County, Indiana.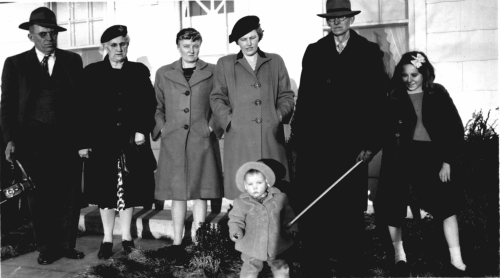 The Spencer Family (1945)
(L-R) Frank Costello, Margaret, Pauline, Ruth, Frank Spencer, Mary Boyer and Shirley Boyer (in front)
[Photo from the collection of Mary Jane Herrell, courtesy of Mary Whisenhunt]

Children of Margaret Pearl Cassingham and Francis Marion Spencer:
Pauline J. Spencer was born 29 Aug 1898 in Miami, Miami, Indiana. On 30 Aug 1925, she married Frank Costello in Kokomo, Howard, Indiana. He was born 13 Oct 1901. He died in 1965 at about age 64 in Kokomo, Howard, Indiana. Pauline died in Oct 1980 at age 82 in Kokomo, Howard, Indiana.
Ruth Spencer was born 13 Oct 1905 in Miami, Miami, Indiana.

Notes
See the photograph of the 1937/1938 Cassingham Family Reunion.
Sources
Margaret: Marriage from Indiana Marriages, 1854-1920.
Frank: Birth from the 1900 census (Wayne, Marion, Indiana. p. 1).
Census Listings
The individuals in this family appear in the following census listings.