Mona Herrell (1953)
[Photo from the collection of Mary Jane Herrell, courtesy of Mary Whisenhunt]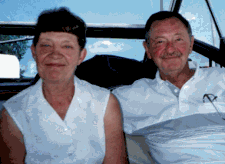 Mona and Paul Tacker (1994)
[Photo from the collection of Mary Jane Herrell, courtesy of Mary Whisenhunt]
Mona Jo Herrell is the daughter of Eldon Edward Herrell and Edna Dock. She was born in 1935 in Indiana.
In 1955, she married Paul Tacker in Indiana. He was born in 1933 in Tennessee.

Children of Eldon Edward Herrell and Paul Tacker:
Michael Tacker was born in 1957 in Indiana.
Tom Tacker was born in 1959 in Colorado.

Sources
Most information provided by Mona's aunt, Mary Jane Herrell.