Mary Lee Boyer is the daughter of Ruth Spencer and Samuel Gaylord Boyer. She was born in 1934 in Indiana.
In 1953, she married Thomas Willman in Indiana. He was born in 1933 in Indiana.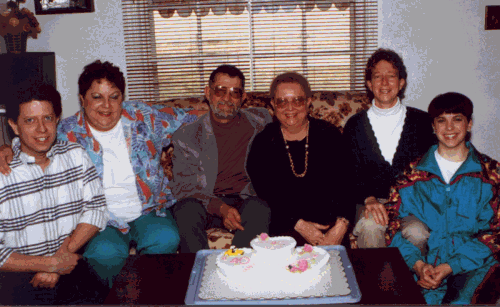 The Willman Family (1993)
(L-R) Samuel, Shirley (Boyer) Smith, Thomas, Mary, Margaret, Jaimee Smith
[Photo from the collection of Mary Jane Herrell, courtesy of Mary Whisenhunt]

Children of Mary Lee Boyer and Thomas Willman:
Margaret Elizabeth Willman was born in 1956 in Indiana. She is known as Peggy.
Samuel Paul Willman was born in 1959 in Indiana.

Notes
See the photograph of the 1937/1938 Cassingham Family Reunion.