William Rue Herrell in 1950
[Photo from the collection of Mary Jane Herrell, courtesy of Mary Whisenhunt]

Richard Eugene Herrell in 2000
[Photo from the collection of Mary Jane Herrell, courtesy of Mary Whisenhunt]
William Rue Herrell is the son of Chester Dee Herrell and Verabel Cain. He was born in 1932 in Indiana.
In 1950, he married Barbara Ogle in Indiana. She is the daughter of Cecil E. Ogle and Uhlan Magdalene Clemens. She was born in 1932 in Indiana.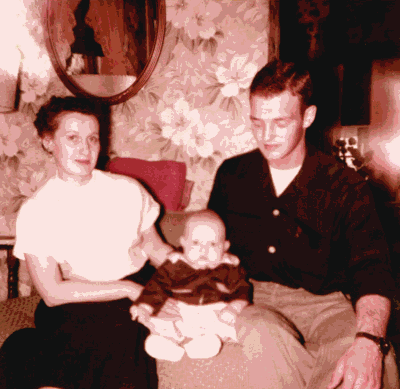 William Herrell Family in 1956
(L-R) Barbara, Richard, William
[Photo from the collection of Mary Jane Herrell, courtesy of Mary Whisenhunt]

Child of William Rue Herrell and Barbara Ogle:
Rickey Eugene Herrell was born in 1955 in Indiana.

Sources
Information for this family provided by William's aunt, Mary Jane Herrell.