Addie Mae Herrell is the daughter of Chester Dee Herrell and Vera Cain. Pete, as she is known, was born in 1942 in Indiana.
In 1960, she married Ronald E. Reed in Indiana. He was born in 1939 in Indiana.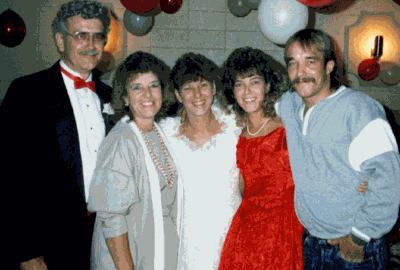 The Reed Family at Peggy's second marriage (1988)
(L-R) Ronald, Addie, Peggy, Angela, Tobias
[Photo from the collection of Mary Jane Herrell, courtesy of Mary Whisenhunt]

Children of Addie Mae Herrell and Ronald E. Reed:
Peggy Darlene Reed was born in 1962 in Indiana.
Angela Kris Reed was born in 1963 in Indiana.
Tobias Scott Reed was born in 1965 in Indiana.

Sources
Information for this family was provided by Addie's aunt, Mary Jane Herrell.