Peggy Darlene Reed is the daughter of Addie Mae Herrell and Ronald E. Reed. She was born in 1962 in Indiana.
In 1980, she married (1) Timothy Lee Stonger.
In 1988, she married (2) Gary Deisch. He was born in 1959 in Indiana.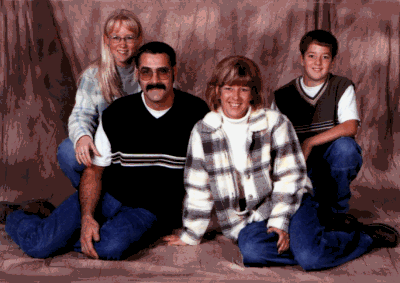 The Deisch Family in 1999
(L-R) Kristen, Gary, Peggy, Dakota
[Photo from the collection of Mary Jane Herrell, courtesy of Mary Whisenhunt]

Child of Peggy Darlene Reed and Timothy Lee Stonger:
Kristen Lanae Reed was born in 1982 in Indiana.
Child of Peggy Darlene Reed and Gary Deisch:
Dakota Lee Deisch was born in 1989 in Indiana.

Sources
Information for this family provided by Peggy's great-aunt, Mary Jane Herrell.