Charles Wesley Cassingham is the son of James Alpheus Cassingham and Mary Catherine Wolf. He was born 24 Nov 1891 in Miami County, Indiana and died 4 Dec 1960 at age 69 in Rochester, Fulton, Indiana.
On 4 Mar 1918, he married Marie Sweany in Howard County, Indiana. She was born 14 May 1900 in Indiana.
He may have married a second time to a Marie Shepphard. (Or this Marie may be the same as the first one.)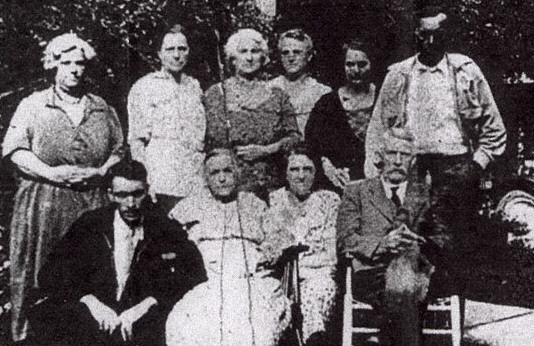 Back Row: Emma McGowan, Ida M. Herrell, Margaret Spencer, Gertrude Wilson, Sadie Eshelman, Charles Cassingham
Front Row: Harry Cassingham, Mary Catherine Wolf Cassingham, Lennie Eckley, James Alpheus Cassingham
Picture taken in 1933
[Photo from the collection of Mary Jane Herrell, courtesy of Mary Whisenhunt]

Foster child of Charles Wesley Cassingham and natural child of Marie Shepphard (who, apparently, was married previously):
Wilma McGloghin was born in Rochester, Fulton, Indiana.

Sources
Most information for this family provided by Charles's niece, Mary Jane Herrell, who lists Charles' wife as Marie Shepphard -- she does not list a Marie Sweany.
Marie Sweany: Birth and Marriage is from the Marriage Index Howard County Indiana 1844-1920.
Census Listings
The individuals in this family appear in the following census listings.
Charles: 1900 Census. Deer Creek, Miami, Indiana. Page 11.
Charles: 1910 Census. Deer Creek, Miami, Indiana. Page 11.
1920 Census. Kokomo City, Center, Howard, Indiana. Page 12.