Ida Edith Collins is the daughter of Ida Edith Cassingham and David John Collins. She was born 29 Mar 1882 in Rockford, Winnebago, Illinois. She died 24 May 1972 at age 90 in Melbourne, Brevard, Florida and was buried 30 May 1972 at Southern Memorial Park, North Miami, Dade, Florida.
On 10 Sep 1904, she married Herbert Willis Hoxie in Dundee, Kane, Illinois. He is the son of Homer Hoxie and Addie Walker. Herbert was born 30 Sep 1882 in Dundee, Kane, Illinois and died 9 Aug 1956 at age 73.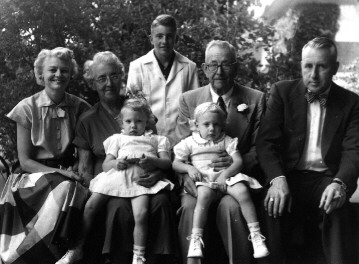 Hoxie Family
(l-r) Harriet, Ida, Sue, Hal Jr., Cindy, Herb, Hal Sr.

Children of Ida Edith Collins and Herbert Willis Hoxie:
Hal Wilmarth Hoxie (Sr.) was born 27 Jun 1905 in Dundee, Kane, Illinois.
Ione Elaine Hoxie was born 27 May 1908 in Miami, Dade, Florida. She married K. Bruening. Ione died 2 Aug 1997 at age 89 in Satellite Beach, Brevard, Florida.

Sources:
Ida: Birth from her "delayed birth certificate." The certificate was prepared in 1946; Ida's cousin, Maude Collins Sampson was the informant.
Marriage comes from her marriage license (see page 1 or page 2).
Death and Burial from Ida's death certificate. The informant was her daughter, Ione (Hoxie) Bruening.
Herbert: Birthdate was provided by his wife, Ida. The Birthplace was taken from his marriage license.
Ione: Birth information provided by her mother, Ida.
Death from the Social Security Death Index (SSN 330-03-3119). Last residence is assumed to be the deathplace.